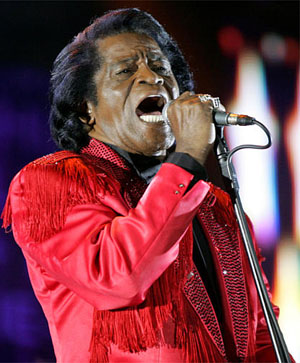 Un grande la Musica se fue, James Brown, el hombre de la voz áspera y los ritmos innovadores que lo convirtieron en el "Padrino del Soul" y guia directa del generos tan universales como el rap, funk y la música disco.
La prensa comenta de el: "Junto con Elvis Presley, Bob Dylan y otros de similar prominencia, Brown fue una de las figuras más influyentes en la música popular estadounidense durante los últimos 50 años. Al menos una generación lo idolatró y muchos copiaron abiertamente su estilo. Su manera de bailar, con movimientos rápidos de pies, inspiró a Mick Jagger y Michael Jackson, entre otras estrellas. Canciones como "Fame", de David Bowie; "Kiss", de Prince; "Atomic Dog", de George Clinton y "Sing a Simple Song", de Sly and the Family Stone, se basaron evidentemente en los ritmos y el estilo interpretativo de Brown."
"Él fue un innovador, un emancipador, un originador. El rap, todas esas cosas, vinieron de James Brown", dijo el cantante Little Richard, amigo de Brown, a la cadena MSNBC. "Hemos perdido un gran tesoro". "Hizo que la música soul sonara en todo el mundo. James Brown es para el soul, para el hip-hop, para el rap, lo que Bach es para la música clásica". Comentarios que realzan su importancia mas alla de lo turbulento de su vida en algunas epocas.
Sobre su influencia no solo en el estilo y el espectaculo sino tambien sobre el valor de una persona orgullosa de su identidad en un mundo aun racista, Brown dijo : "Recuerdo claramente que nos llamábamos a nosotros mismos personas de color, y después de la canción, nos llamábamos negros (I'm a black, and I'm proud- soy negro y estoy orgulloso"-) La canción mostró incluso a más gente en aquel entonces que la letra y la música y una canción pueden cambiar a la sociedad".
Memorable por canciones como "I feel good", "Sex Machine", "Living in America" (usado en una del las secuelas de Rocky) asi como decenas mas, James ha logrado alcanzar el destino de un gran artista: seguir vivo para hacer mejor la vida de los demas gracias a su maravillosa musica. We feel good, thanks James.
Mira estos videos de antologia: I feel good, Sex Machine, Living in America