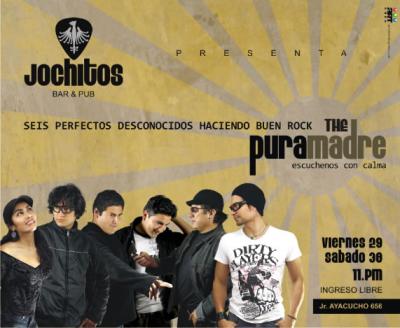 Hace un buen tiempo vimos a los De Pura Madre encabezados por el percusionista Rony Espinoza y con el entonces vocalista Willy Leon rodando por abrirse paso con el pop más entretenido que se podia hacer en la ciudad de Trujillo, marcando divertidos recuerdos como las memorables performances en el Patio, el Maizal, y una mini gira a Huamachuco, hoy estan de vuelta con una gran seriedad y mucho ritmo, rebautizados como THE Pura Madre y con tocadas ya este Viernes 29 y Sabado 30 de agosto en Joshitos Bar Ayacucho 656 y el viernes 12 setiembre en Bizarro.
The Pura Madre es un proyecto musical que nació para hacer covers en genero Rock y todas sus vertientes, alcanzando una buena acogida dentro de la movida de Pubs, bares, eventos públicos y privados, con diferente repertorio para cada evento. The Pura Madre esta conformado por músicos de trayectoria tales como Rony Espinoza en la batería, Roberto Acosta, en la guitarra, Beto Santos en los teclados, Arturo Acosta en la voz masculina , Maribel Arteaga en la voz femenina y Delmar Saavedra como bajista.
Vienen con todo para hacer pasar un gran momento The Pura Madre.
CONTACTO dpuramadre@gmail.com Telfs. Fijo 273499 – Nextel 416*0842 – Claro 94 9338052